Transparency International (TI), an anti-corruption watchdog, has released its 2022 Corruption Perceptions Index (CPI), indicating the grave condition of world corruption statistics, with circa 95% of countries showing little to no improvement since 2017. The Corruption Perception Index, which assigns a score out of 100, captures the opinions of experts and businessmen concerning corruption in the public sphere, to draw accurate conclusions.
TI, a global anti-corruption organization headquartered in Berlin, Germany, has published the CPI, an international anti-corruption indicator, every year since 1995 to assess the level of corruption in the public and political sectors, rating 180 countries and territories this year.
"Corruption has made our world a more dangerous place." "As governments have collectively failed to make progress against it, they fuel the current rise in violence and conflict and endanger people everywhere," Delia Ferreira Rubio, the chairperson of Transparency International, prognosticated based on the recent findings.
"The only way out is for states to do the hard work of rooting out corruption at all levels in order to ensure that governments work for all people, not just an elite few," she stated.
The TI Corruption Perception Index is being launched this year with the themes of corruption, conflict, peace, and security. Since these entities are profoundly intertwined, it is also observed that the countries that rank low in the global peace index show the same peculiarity in the CPI rankings as well.
CPI 2022: Countries and Rankings
The points allotted range from 0-100, where 0 indicates "highly corrupted" and 100 is perceived to be "very clean."
With 90 points, Denmark took top spot. Finland and New Zealand tied for second with 87 points, while Norway came in fourth, scoring 84. Singapore and Sweden shared fifth place with 83 points.
South Korea was ranked lower among the Asia-Pacific nations compared to Hong Kong (76 points), Japan (73 points), and Taiwan (68 points). Pakistan's position dropped from 28 to 27 this year. While India's score remained unchanged, Bangladesh's ranking declined from 26 to 25 this year.
The U.S. is ranked 24, China 65, and North Korea 171 on the list.
Declining standards of national integrity and anti-lobbying regulations constitute the primary reasons for this beleaguered situation of stagnation in the rankings compared to previous year.
In 2022, Ukraine improved its ranking in the Corruption Perceptions Index despite the war atmosphere. However, the offending nation, Russia, is undergoing stark contradictions with the reports' declarations—its position is receding into a gray area with 28 points at hand.
"The absence of any checks on Putin's power allowed him to pursue his geopolitical ambitions with impunity." "This attack destabilized the European continent, threatened democracy, and killed tens of thousands of people," the report asserted.
Ukraine received 33 points out of 100 in the Corruption Perceptions Index (CPI) for 2022. The indicator revealed an increase of one point from last year, and now Ukraine ranks 116th out of 180 countries listed.
Meanwhile, Somalia is placed last with 12 points, while South Sudan and Syria tied for second-to-last with 13 points.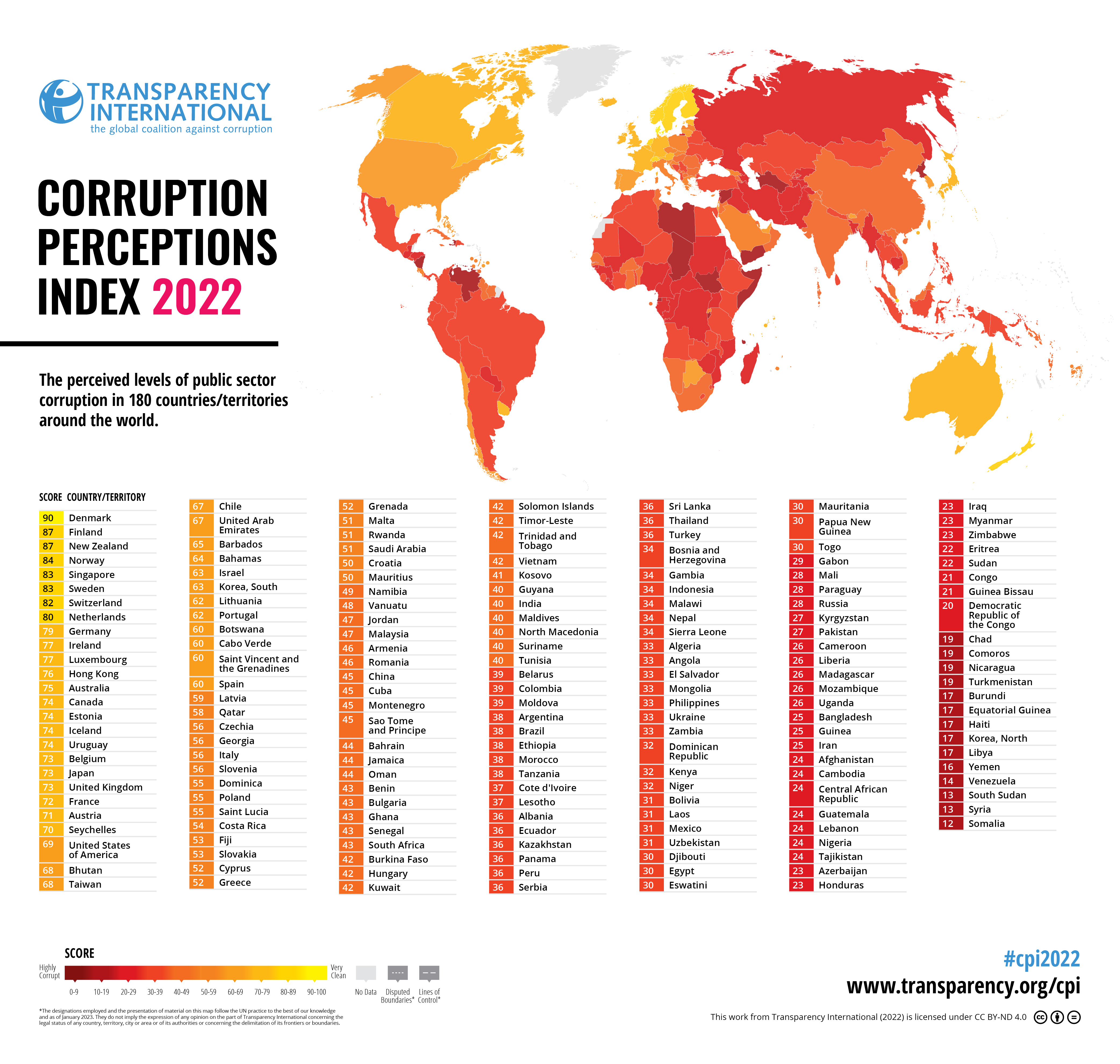 According to the research, the Asia-Pacific average has remained at 45 for the fourth year in a row, while more than 70% of countries are ranked below 50. Transparency International said the global average for the Corruption Perceptions Index remained unchanged at 43 for the 11th year in a row, with more than two-thirds of countries having extremely concerning corruption problems below 50.
Transparency International compiles its data from 13 sources, which also include the World Bank, the World Economic Forum, and other think tanks where the documents are assessed and analyzed to make sure of their precision and coherence.
The CPI rankings and their calculation methodologies are also periodically reviewed—most recently by the European Commission's Joint Research Center in 2017—to ensure their credibility.