General Atomics, America's leading energy and defense company, has initiated three important projects in the fields of artificial intelligence (AI), drones, and semiconductors in India. This announcement by an official of the company comes a day after the historic India-US initiative on critical and emerging technologies (iCET).
According to Vivek Lall, Chief Executive Officer (CEO) of General Atomics Global Corporation (GA-ASI), GA-ASI has partnered with Bharat Forge in the critical area of ​​aeronautical structure manufacturing, while it has joined hands with Indian artificial intelligence company 114AI to develop next-generation technologies in the AI ​​sector. General Atomics will also collaborate with another Indian startup, 3rdiTech, to work in the semiconductor sector.
"We look forward to working with Bharat Forge in this important area of manufacturing. We hope that these partnerships will result in world-leading products.," Lall told PTI. "Bharat Forge is a world-renowned company in the forging sector and has a significant contribution to the aerospace sector," he added.
America's top drone maker General Atomics has announced a partnership with a leading company in the country to manufacture landing gear and spare parts for unmanned aircraft in India. The move is expected to help develop a manufacturing ecosystem for manufacturing state-of-the-art drones in India.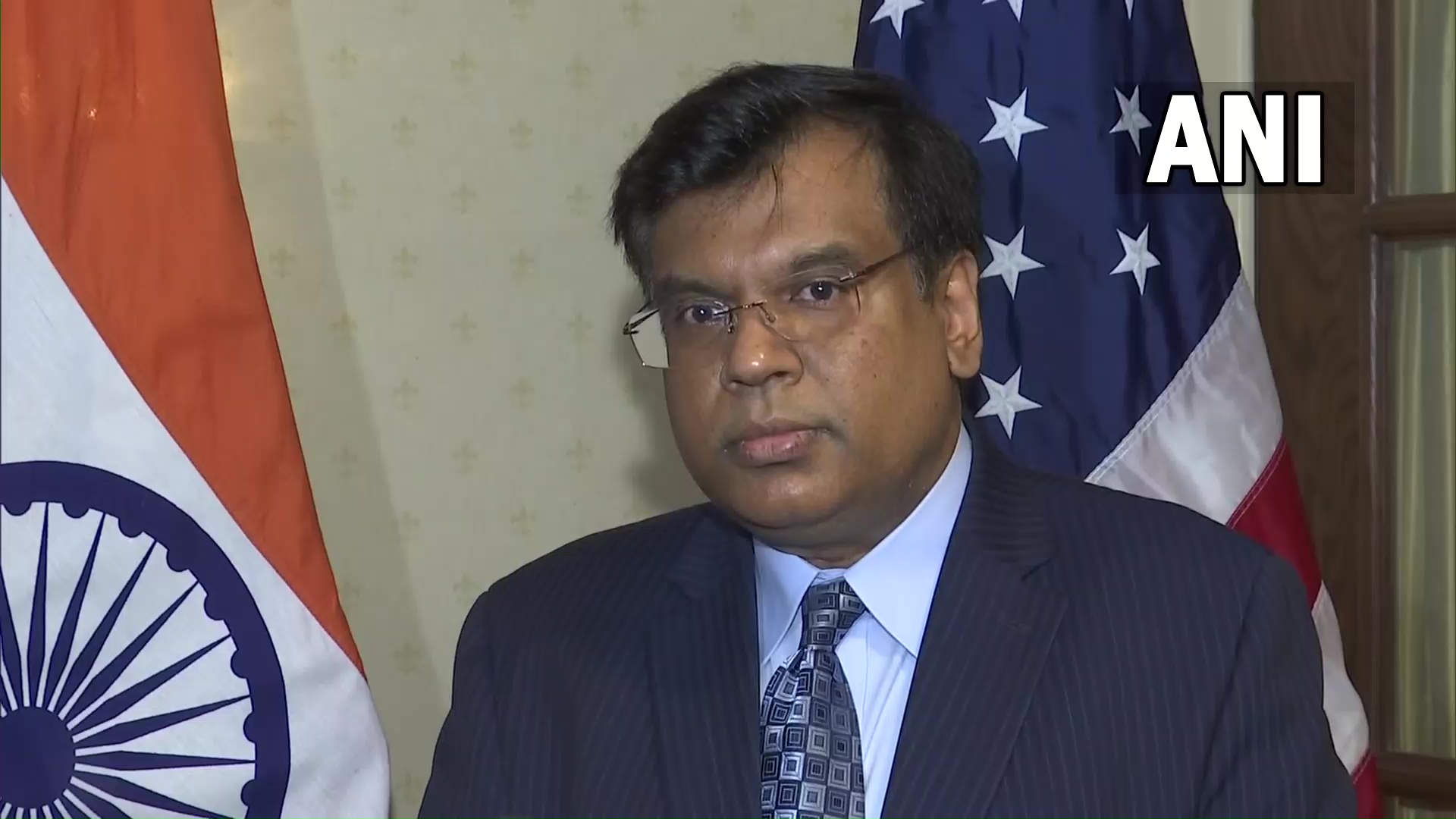 San Diego-based General Atomics Aeronautical Systems (GA-ASI), a subsidiary of General Atomics, said its partnership with Bharat Forge Ltd. will help both companies build significant capabilities and accelerate the unmanned aircraft industry in India.
With over five decades of experience in manufacturing a wide range of high-performance critical safety equipment, Bharat Forge is a full-service provider of products from conceptualization, design, engineering, manufacturing, testing, and validation, according to a press release.
Baba Kalyani, Chairman and Managing Director, Bharat Forge Limited, said that aerospace is a "technology intensive" sector, which depends on the accuracy, reliability, and lack of defects of the product.
"It is a culture in itself, which requires a lot of focus on people and processes. As part of our aerospace development strategy, our partnership with GA-ASI is a testimony to our efforts to make India self-reliant together with General Atomics," Kalyani said.
Earlier, the White House issued a statement saying that a task force would be formed in association with the US Semiconductor Industry Association (SIA), the India Electronics Semiconductor Association (IESA), and the Semiconductor Mission of the Government of India. This task force will work to evaluate and develop near-future opportunities and a strategic semiconductor ecosystem.
General Atomics is in line with the Prime Minister of India Narendra Modi's Make in India strategy and is looking forward to partnering with Indian companies.
General Atomics' MQ-9B Predator
India and the US are aiming to complete the deal for 30 "MQ-9B Predator Armed Drones" at the earliest, costing more than three billion dollars. This will help India strengthen its overall surveillance system along the Line of Actual Control (LAC) and around the Indian Ocean.
Officials aware of the matter said on Wednesday, without giving details, that after working on it for five years, "the decision has to be taken from the Indian side."
The "MQ-9B Predator Armed Drone" is considered an important part of India's national security and defense needs. Out of 30 drones, 10–10 drones will be given to all three forces. The deal was announced in the summer of 2017.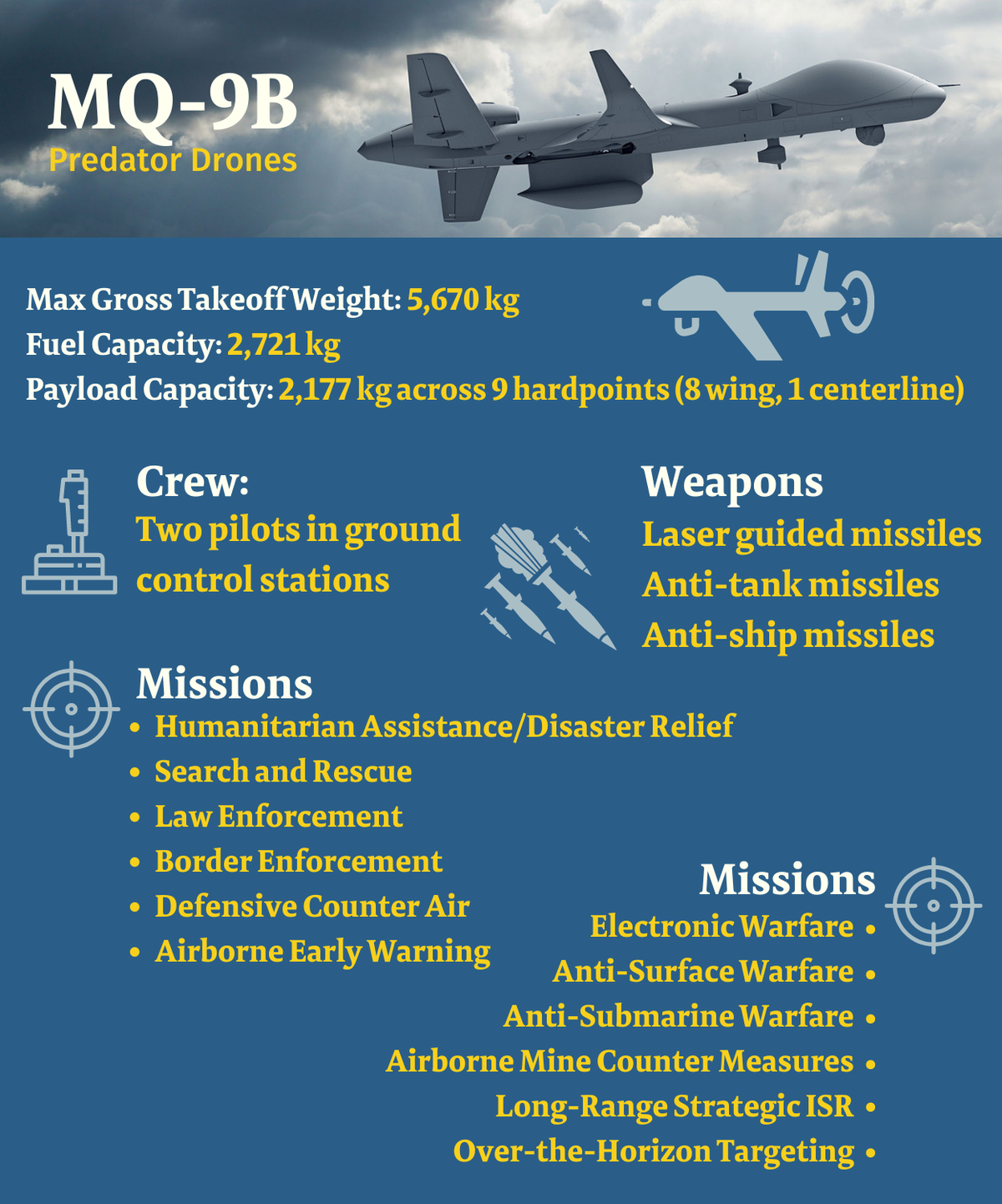 Assistant Secretary of State for Political-Military Affairs Jessica Lewis said in response to a question on the delay in the deal, "I will have to find out about that."
It is believed that National Security Advisor (NSA) Ajit Doval also discussed the issue during his visit to the US during the launch of the India-US initiative on critical and emerging technologies(iCET). Doval has met several top officials, including his American counterpart Jake Sullivan and US Secretary of State Antony Blinken. In the meetings, both sides agreed that the deal should be finalized soon.
India also wants to achieve this soon because the "MQ-9B Predator Armed Drone" will help it strengthen national security and surveillance not only in the Indian Ocean but also along the Line of Actual Control (LAC).
At the same time, the administration of US President Joe Biden wants to implement this deal as soon as possible because it will increase employment opportunities before next year's presidential election and because this deal will also be politically beneficial.
Vivek Lall, CEO of General Atomics Global Corporation, told the news agency, "The MQ-9B will give the Indian Army the ability to fly farther, stay in the air longer, and perform more missions than any other aircraft in its class." SkyGuardian and SeaGuardian can provide "full-motion" video in virtually any condition, day or night, as well as other information with their "onboard systems."