Once again, the Indian diaspora has achieved a high position in America. This time, four Indian-American congresspersons, Pramila Jaipal, Raja Krishnamoorthi, Ro Khanna, and Ami Bera, have been appointed as members of key committees of the US Congress. Indian-origin Pramila Jaipal has been chosen to serve as the ranking member of the prominent House Judiciary Committee's immigration subcommittee. Along with this, MP Raja Krishnamoorthi has been made a "ranking member" of the newly constituted House Committee on China, and Ro Khanna, another Indian-American lawmaker, has also been made a member of the new committee. Apart from this, Indian-American Congressman Dr. Ami Bera has been appointed as a member of the powerful US House Committee on Intelligence.
Table of Contents
Indian-American Congresswoman In Top Post Of US Immigration Panel
Pramila Jayapal, 57, who represents Washington's 7th Congressional District, became the first immigrant to lead the House Judiciary Committee panel on immigration. Pramila Jayapal has replaced Jo Lofgren. After being named a ranking member, Pramila Jayapal said she is honored to be the first South Asian woman elected to the US House of Representatives. Pramila said that when she came to America, she was only 16 years old. She was alone and empty-handed. After a long wait of almost 17 years, she got a chance to become an American citizen. Pramila said she is extremely fortunate to have had the opportunity to live the American dream, which remains out of reach for many immigrants today.
Pramila Jayapal said, "It's a big deal for me to be in a position where I'll be taking on the role of rebuilding a broken immigration system." Prior to entering the US Congress, Pramila fought for immigrants for a very long period. She also founded One America, the largest immigrant group in Washington (formerly known as Hate Free Zone). Additionally, she has received the Champion of Change award from former US President Barak Obama. She was also arrested during a civil disobedience demonstration protesting the Trump administration's "zero tolerance" family separation policy.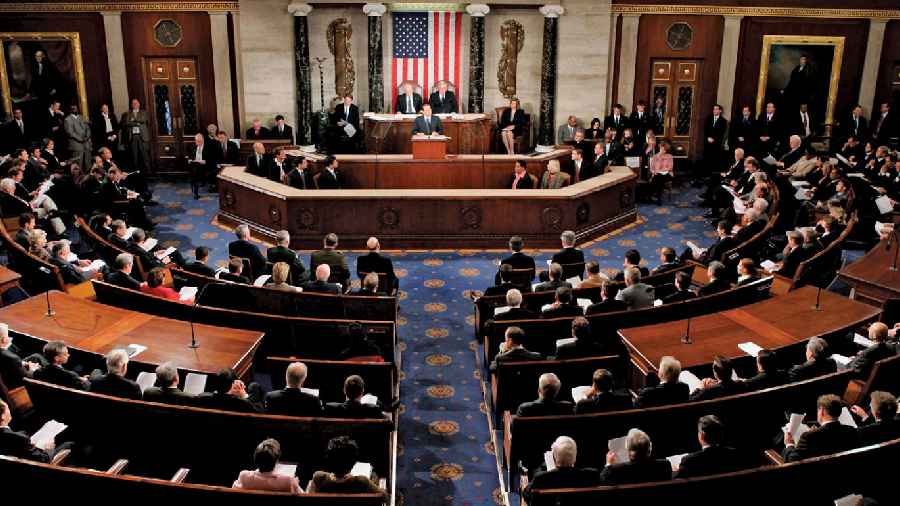 Two Indian-Americans to head the US House Select Committee on Strategic Competition
The US House of Representatives Minority Affairs Leader Hakeem Jefferies on Wednesday announced the appointment of Indian-American Congressman Raja Krishnamoorthi as the "ranking member" of the House Select Committee on Strategic Competition between the US and the Chinese Communist Party (CCP), which will look into various aspects related to those actions of China that may threaten America and the world.
"I am grateful to Leader Jefferies for appointing me as the "ranking member" of the House Select Committee on Strategic Competition between the US and the Chinese Communist Party," Krishnamoorthi (49) said.
Additionally added to this new committee is another Indian-American Congressman Ro Khanna. It was formed by the Speaker of the House of Representatives, Kevin McCarthy, in the 118th Congress (Parliament) for the purpose of dealing with, investigating, and developing policy related to economic, technological, and security-related competition with the Chinese Communist Party of America.
"The Chinese Communist Party poses serious economic and security threats to democracy and prosperity in the United States and around the world, which is reflected in its threats against Taiwan's democracy, weaponizing TikTok (the app), and the theft of intellectual property worth hundreds of thousands of US dollars," he said.
Ami Bera, a member of the top US House Intelligence Committee
At the same time, 57-year-old Ami Bera has been appointed as a member of a powerful US House committee dealing with intelligence matters. whose responsibility it is to monitor the intelligence activities of the country, including the Central Intelligence Agency (CIA), Office of the Director of National Intelligence (DNI), National Security Agency (NSA), as well as Military Intelligence.
"I am honoured to be appointed by Leader (Hakim) Jeffries to serve on the House Intelligence Committee," said Bera.
Bera, a six-term Congressman who represents California's 6th Congressional District, said, "At a time of growing threats both at home and abroad, I take this new role very seriously, and I am entrusted with the responsibility of protecting and defending American families."