On 18th, a vigil, which was held in the loving memory of Brianna Ghey in Warrington, was shockingly disrupted after a group of young men gatecrashed and proceeded to shout a mouthful of homophobic slurs.
The vigil had in attendance members of Brianna's family, and also other members of the LGBTQ+ community who came to support and more importantly, had also come to mourn her loss and pay their respects. The members came wearing t-shirts bearing an image of Brianna's face and her name.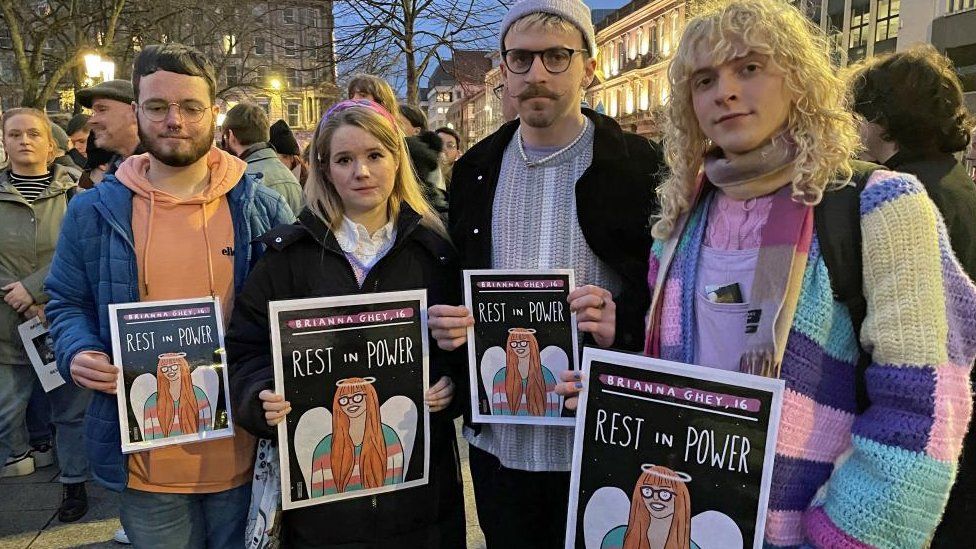 Table of Contents
Who was Brianna Ghey?
Brianna Ghey was a 16 year old transgender girl and a student at Birchwood Community High School. Brianna Ghey had a substantial online presence and following on social media platforms like Tiktok and would also be constantly active on such sites.
According to her friends, Brianna Gheywould help the young people at her school get access to hormone replacement therapy legally and safely. In addition, Brianna herself had faced years of transphobic bullying from her peers and had also been 'gang beaten'.
How did this happen?
Ghey was found with stab wounds in Linear Park by passersby in Cheshire on Friday 11th, and was pronounced dead at the scene. Two 15 year olds, a boy and a girl, have been charged with her death and were even arrested by the Cheshire Police on the 12th of February. According to the police, this was a targeted attack and thus, the police began investigating this case as a possible hate crime, though they had previously stated that they had not found any rock solid evidence to support it.
The teenagers were charged with murder and were placed in youth detentions after being refused bail. On the 16th, the accused joined the hearing where they were ordered to stay in youth detention until a pre-trial commenced from 2nd May, 2023.
Crimes committed against trans people
This is not the first time a trans person or a member of the LGBTQ+ community has faced violence due to their choices. According to a report released recently by the European International Lesbian, Gay, Trans and Intersex Association (ILGA), violence against members of the LGBTQ+ community has reached its highest point in Europe and Central Asia in the past decade.
Last June, two people were killed and 21 were injured in a shooting that took place outside a gay bar in Oslo. A similar attack also took place in Bratislava last October where two people, belonging to the LGBTQ+ community, were killed by a gunman.
More shockingly, over the last few weeks, about 150 anti-transgender rights bills have been introduced and about 25 states in the US are going forward with this bill. These kinds of laws are being pushed mainly by the Republican Party to deny trans people from accessing proper healthcare, which includes gender-affirming surgeries and even hormone therapy. Many NGOs and activists in Bulgaria have initiated a rigorous campaign for trans people to change their documents as it has been an ongoing problem for a long time.
On Monday, however, the Bulgarian Supreme Court ruled that 'transgender people will no longer be eligible to change documents in accordance with their identity'. Shortly after the bill was passed, the Bulgarian Socialist Party congratulated the Supreme Court for passing a bill against trans rights.
In the last two years, countless trans people have been victims of violence by people around the globe. Brianna is just another tragic addition to this lengthy list of human beings who have been killed for trying to express who they truly are. For many, the crimes committed against trans people aren't even reported and thus, making it impossible to truly imagine how deep this mentality permeates in today's society.