After Liverpool's defeat to Real Madrid by a score of 5-2, Alan Shearer speaks on the decision to believe that the club is still dealing with significant problems within the team. After squandering a 2-0 lead in the first 15 minutes of the match at Anfield due to several defensive blunders, the Reds are in jeopardy of being eliminated from the quarterfinals of the Champions League.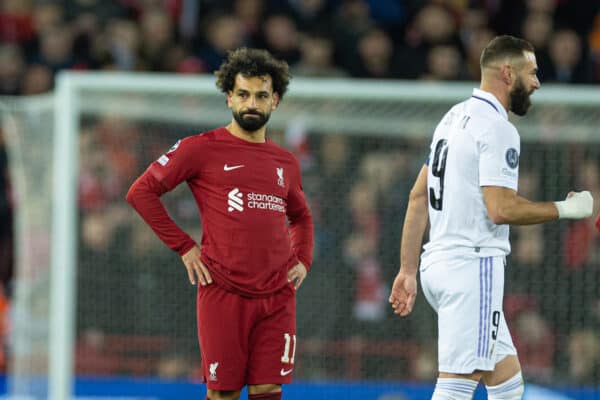 Alan Shearer, a former great player for England, is of the opinion that the Reds' 2-0 win over Newcastle United on the previous Saturday was more than just a one-off setback in the Premier League. Alan Shearer stated that Liverpool are "hopeless at the back" and Shearer also stated that there are "issues in the camp" at Liverpool.
What did Alan Shearer say about 'The Reds'?
The all-time premier league goal-scorer while speaking on BBC Radio 5 Live said, "Joe Gomez makes too many mistakes. Virgil van Dijk does not look comfortable when he's alongside him. You always feel they are going to give something away when Gomez is playing. They were hopeless at the back tonight. They're not very good at the back and they don't have the midfield protection they used to have."
He also said, "When you allow a defender, who has come up from a set-piece, a free header from four, five yards out with no one near him so soon after half-time, when your goalkeeper makes a mistake like he did, when Gomez doesn't get tight to Vinicius Jr. for that first goal… all these things add up. You can't do that against any player, let alone world-class players like the ones in this Real Madrid team."
The defeat last night was a really disappointing night because of not just the loss but also the way in which it occurred. You don't give up the number of goals that they did tonight unless there are problems within the camp, which they now do have.
Match Report:
Vinicius Junior scored a fantastic goal to bring Real Madrid back into the game after they had fallen down due to goals scored by Darwin Nunez and Mohamed Salah. However, Alisson gave Real the equaliser nine minutes before the half by booting a back pass from Joe Gomez directly towards Vinicius.
At the halftime break, Real Madrid took control of the game when Gomez gave Eder Militao space to run free and score on a near post free kick that was provided by Luka Modric.
Gomez subsequently had the misfortune of having an effort by Karim Benzema bounce off of him, which allowed Carlo Ancelotti's side to take a dominant 2-0 lead. Gomez's misfortune allowed the team to take the lead.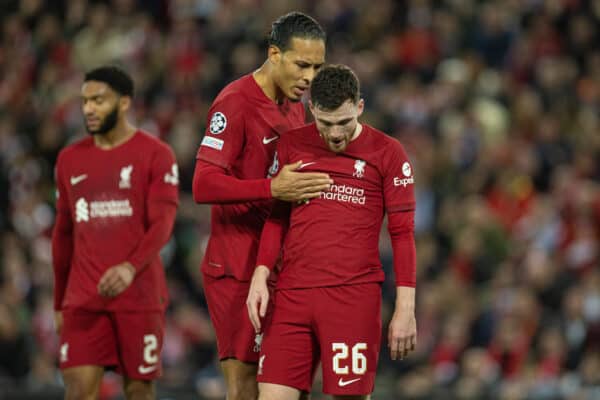 After sliding the ball past an uncovered Alisson and finding room to blast into the top corner despite being surrounded by Reds players, Benzema capped off the amazing thrashing with a goal. The goal came after Benzema found a way to beat Alisson to the ball.
What's next for Liverpool?
On Saturday, the Reds will play Crystal Palace in a Premier League match, and they will be looking to rapidly regroup before the game. Then Liverpool pays a visit at Bernabeu on Wednesday to play the second leg of their last-16 match in the UEFA Champions League (March 15).
Read Next: Leipzig's Nkunku set to return against Man City