Disney's streaming platform, Hotstar, experienced a 2% contraction in total subscriber base in Q1 2023. Of the 4.6 million subscribers lost during the quarter, 4 million came from India where the service attracted customers through live streaming of cricket matches, particularly the Indian Premier League (IPL) tournament. However, Disney lost the IPL digital rights for this season to Viacom18, who is offering the tournament for free on its JioCinema service, and is backed by Reliance Industries' billionaire Mukesh Ambani.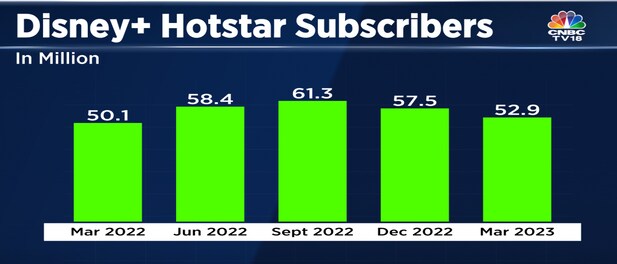 Hotstar grapples with bleak prospects as subscriber loss may escalate
Hotstar's subscriber losses continue, with 8.4 million subscribers lost since October of last year, marking the second consecutive quarter of losses. In the March quarter, the average revenue for each subscriber declined from 74 cents to 59 cents. The platform's prospects remain bleak as it deals with the recent termination of its licensing agreement with HBO, which prompted the withdrawal of the entire HBO catalogue from the Indian platform. Analysts estimate that Hotstar's subscriber decline will continue, perhaps reaching 7 million by the end of the year.
JioCinema streaming IPL for free on connected TVs sees a rise in CTV ad spots
As JioCinema streams the IPL for free on connected TV and mobile devices, connected TV (CTV) advertising spots rose to 94 in week 4 of IPL from 78 spots in week 1, seeing a 20% growth, according to a report by audience measurement and advertising research firm TAM Media.
This research suggests that advertisers are quite interested in reaching out to premium consumers via CTVs. Meanwhile, linear TV commercial slots fell dramatically, from 66 in week 1 to 40 during the fourth week of the IPL, as per a BARC report. CTV had 88 ad spots per match in the first four weeks of the T20 tournament compared to 52 ad spots per match for linear TV, according to another media analysis report.
As consumers move away from traditional TV to connected TVs and mobile devices for content consumption, traditional TV viewing is on a decline in India.According to reports, connected TV advertising will expand at an average yearly increase of 47% in India over the next five years.
As such, brands are expected to increase their CTV ad spends to $395m by 2027, from $86m in 2023.

JioCinema has attracted 25 sponsors so far for the ongoing season of the IPL, compared to Disney+ Hotstar's 13 sponsors for IPL 2022. Other corporations, including Rapido, Amazon, and Spotify, have joined JioCinema as sponsors and partners. Viacom18 acquired the digital streaming rights for the IPL for INR 23,758 Cr for the 2023-2027 period, and has been streaming the cricket matches for free to attract more users, while Disney broadcasts the event on linear television.
JioCinema set to be future OTT giant?

JioCinema, the digital streaming platform backed by Reliance, has been making significant strides in the Indian OTT space. After securing the digital streaming rights for the Indian Premier League (IPL) and streaming it for free, JioCinema has also signed a deal with HBO for its content, adding to its existing library of local language originals. Jio Studios, the content arm of Reliance Industries, has also announced a slate of 100 new films and TV shows, including big names like Shah Rukh Khan and Adil Hussain. As JioCinema and other competitors continue to gain popularity, Disney+ Hotstar is expected to see a decline in its subscriber base.