New Zealand and Fiji solidified a defense agreement aimed at bolstering military training and maritime security. The agreement was signed in Suva and involved New Zealand Minister of Defence Andrew Little and Fijian Minister for Home Affairs and Immigration Pio Tikoduadua. This landmark agreement establishes a legal framework for military cooperation between the two nations within each other's territories. Additionally, the deal seeks to address critical areas such as disaster and humanitarian response coordination and the challenges posed by climate change.
New Zealand's Commitment to Fiji's Security
In expressing his views on the agreement, Minister Little emphasized the significance of the relationship between New Zealand and Fiji. He stated, "The deal reflects the value New Zealand places on our relationship with Fiji," underlining the importance of effective collaboration between their respective militaries. The timing of this agreement is noteworthy, as the United States, New Zealand, and Australia have been actively working to strengthen security ties with Pacific nations. Their efforts aim to provide an alternative to China's increasing influence in the region. Just last month, the United States and Papua New Guinea signed a defense and maritime cooperation agreement, further highlighting this trend.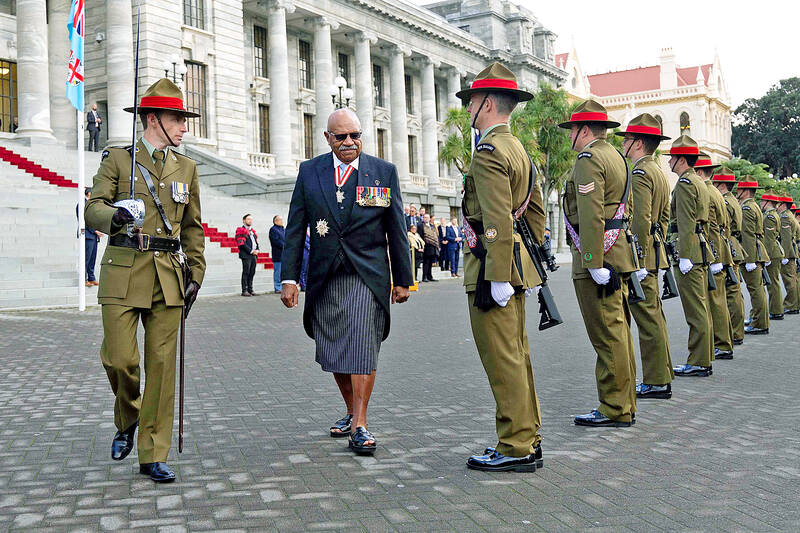 Image Source – AFP
Notably, in the past year, China secured a security pact with the Solomon Islands. However, its attempts to establish a broader regional security deal have encountered challenges. "Beijing's success in signing the China-Solomon Islands security deal last year has kind of put a chill on other Pacific Island nations doing the same, especially if not balanced by deals with Australia, New Zealand or the United States," stated Derek Grossman, a senior defense analyst at the US think tank RAND Corporation.
Fijian Prime Minister Sitiveni Rabuka recently indicated his country's intention to move away from a policing agreement made with China over a decade ago. This agreement had been suspended since Rabuka assumed office in January. During a visit to Wellington, Prime Minister Rabuka explained that the 2011 agreement was under review. He questioned the viability of cooperation if their systems and values differ, suggesting that Fiji should consider collaborating with nations that share similar democratic values and systems.
Countering China's Influence in the Pacific Region
Under the policing agreement with China, Fiji received training and supplies to support its police forces. Additionally, in 2018, a select group of Fijian police officers received training in China regarding drug-trafficking cases, as reported by Chinese state media.
The Fijian government's decision to distance itself from the policing agreement with China partly stems from a desire to prioritize cooperation with like-minded democratic nations such as New Zealand and Australia, according to Derek Grossman. He further remarked that the defense deal between Fiji and New Zealand would allow the Kiwi forces to augment Fiji's capacity and expose Suva to new technologies while enhancing interoperability.
Samantha Custer, director of policy at the University of William and Mary's AidData China Research program, suggested that Fiji's moves to disengage from Beijing may have broader ramifications in the region.
The defense agreement between New Zealand and Fiji represents a strategic response to the evolving security dynamics in the Pacific region. As concerns over China's growing influence persist, Pacific nations seek alternatives and reassess their partnerships to safeguard their interests and democratic values.