Ukrainian President Volodymyr Zelensky received a cordial welcome from Moldova's President Maia Sandu at the European Political Community (EPC) Summit at Moldova.
President Volodymyr Zelensky was the first European leader to arrive at the European Political Community (EPC) Summit held at Mimi Castle in Bulboaca, Moldova, barely 13 miles from the internationally recognised border of Ukraine. Along with Zelensky, the summit also hosted leading heads of states and officials from 27 European Union member states, 16 Non-European EU countries, and 4 EU Institutions.
The EPC is a pan-European Forum set up in May last year on the recommendation of French President Emmanuel Macron following Russia's invasion of Ukraine. It serves as a platform to engage, discuss and deliberate through dialogue issues that serve as a threat to peace, democracy and prosperity of European countries. It also brings together European leaders to discuss solutions to Europe's most pressing issues, such as energy, security and stability. 
Given the geopolitical situation of the region, the main agendas of the meeting were related to defence and security in the context of Russia's invasion of Ukraine, as well as securing energy and interconnectivity.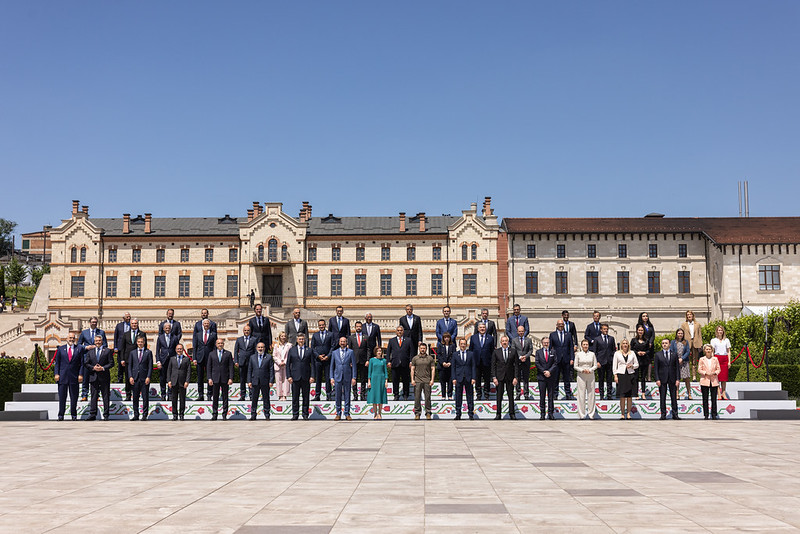 Maia Sandu, the President of Moldova issued a statement that, 'It is an important day for Europe as we have managed to bring together the entire continent today, the main issues of today's agenda being the Ukraine crisis and the restoration of peace and security in the region. This summit is critical to build trust among leaders of the continent over its geopolitical turbulences.
Primary agendas of the Summit
Since this forum brought together leaders from across 50 European countries, the primary agenda of the meeting covered several critical topics which included:
Securing key infrastructure to protect pipelines, cables and similar channels from sabotage
Combating cyber threats and disinformation campaigns
Supporting Ukraine through a support fund to cope with humanitarian and infrastructural consequences in its territory
Reducing dependency on Russian gas and energy sources
Enhancing cultural diversity through student exchange programs
Zelensky puts forth Ukraine's case
President Zelensky pressed his case for Ukraine to be part of the NATO military alliance as he gears up for what is expected to be Ukraine's counter-offensive against Russian invasion. He received a warm welcome from Ms. Sandu signifying the meeting as a demonstration of a United European Front against Russia's aggressive militarism.
Their discussions mostly involved issues like Eastern Ukraine's ceasefire situation that has been repeatedly violated by Russian separatists. They also expressed mutual support for each other's aspirations to become a part of the European Union and NATO and consented to enhance bilateral trade and investment. 
President Zelensky asserted in a bold statement that Ukraine is prepared to join the NATO military alliance and is awaiting the bloc's decision regarding the same. It highlights Ukraine's effort to combat Russian territorial aggression by aligning itself with western military and political structures. He also reiterated his stance of joining the European Union just like his counterpart Ms. Sandu has been pushing forward the desire to join the EU earlier to strengthen ties with European nations and institutions.
Zelensky also thanked and conveyed his support to Moldova and its people for wholeheartedly accepting Ukrainian refugees during the initial phase of crisis when the war began. Their mutual support underscores their cooperative relationship based on a common vision of securing peace and prosperity in the region.
The two nations will look forward to seeking mutual support and cooperation as the European continent is grappling with catastrophic consequences due to Russian aggressive forays into Ukraine. As Mr. Zelensky has remarked, "I would love to hold many bilateral talks with Moldova". Ms. Sandu will also use the opportunity to push forward Moldova's entry into the EU and seek European investment across various sectors in Moldova. 
This show of solidarity is intended to display support for both Ukraine and Moldova and reaffirm European commitment towards securing peace and democracy in the continent.